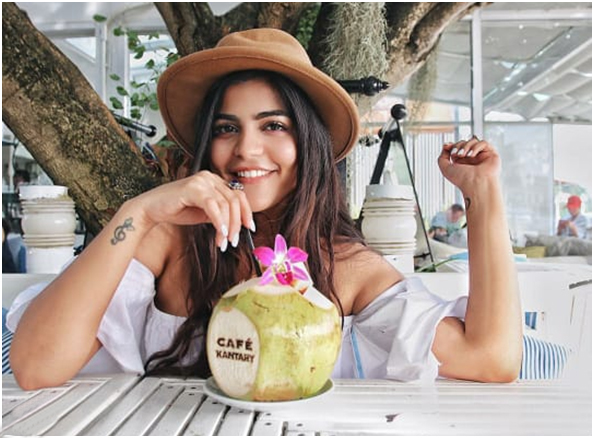 After this elongated season of winter, we are now nearing summer and we can finally let go of all the sweaters and thick coats that have been stacked up in our closets for so long. It is time to take out our lightweight, cotton and all the florals that also seem to be trending at this moment.
We, being in the Delhi temperature, face pretty scorching heat and it gets very important to choose our outfits right to take out our entire day in them and don't feel the irritation. In summers, we need to be extra cautious with our clothing as well as our health. The sun constantly sucks up all our fluids and it should be our utmost priority to keep ourselves hydrated at all times. Drink a lot of water and we can also substitute it with some coconut water or fresh juices when plain water gets boring. Being hydrated also keeps our skin fresh and clear. We won't be victims of the summer acne and our skin will remain soft and supple, provided we are hydrated of course.
Now with the most important thing being clear, let's move on to the fashion part.
This season has a lot of sweating involved in it so we need to be super wise with our clothing to avoid any inconvenience and embarrassing moments. Let's go through the things that we need to keep in mind to make clever fashion choices this summer.
DO. Go for maxi dresses. They are fun and they are easy. We don't need to put in our heads for a lot of pairing as they can be just worn and we'll be ready for the day. They are flowy so they don't stick to our silhouette and since they are light, they don't feel heavy on our bodies. Maxi dresses look very elegant in plain as well as printed fabrics. Floral and stripes look super cute and you might just end up making it your go-to outfit this summer.
Dress: Faballey
Sandals and Handbag: Ceriz
Dress: Ajio Life
Dress: Max Fashion India
The oxidized jewelry paired with the traditional slides and bag, adds a lot of quirkiness to the outfit.
Dress: Stalk Buy Love
DON'T. Refrain yourself from getting too much into denim because they are on the heavier side. They might make you feel tired and irritated. I know we can't let go of our staple blue jeans but we can sure try to avoid them and wear them only when we miss them too much. Denim jackets are also heavy but we can wear them if we pair them wisely.
Outfit – Akashi Clothing
DO. Given hopes in your eyes regarding your favorite denim jeans, it wouldn't be wise of me to not tell you what you can pair them with. So since the denim is going to be quite fitted from our waist, we go for simple cotton t-shirts to wear with them. They look statement as well as super casual and comfortable. Go for an oversized one so you feel even more comfortable and cool.
Remember – Prioritize your comfort this season.
T-Shirt: Levi's
T-Shirt – Guess
DON'T. Don't go for dark colors because they absorb heat and end up making us feel even hotter than it is. Blacks are a no-no and why do we even need to wear black, let's exploit the summer colors in the summer season.
Dress: The Burnt Soul
DO. Now you can't wear black – but you can wear white. White is 'the' summer color and we must exploit this color to the fullest. White helps us remain cooler and it looks super cute when styled properly. Pastel shades are also a lot of fun and they make the outfit look very light and breezy.
Outfit :Lecoanet Hemant
Outfit: Anita Dongre Grassroot
Outfit: The Burnt Soul
DON'T. Don't go for fabrics through which air can't pass. Cotton is perfect for this season while fabrics like velvet and polyester make you feel itchy and uncomfortable.
DO. Invest in some nice cotton, linens, and even chambrays. Chambrays are a lot lighter than denim and are perfect for summers.
Joggers: Go Colors
DON'T. Do not. I repeat. Do not leave your house without the sunscreen on. It's very important if you value your skin and want to protect it from the sun.
Some ideas for when your heart feels like going a bit traditional?
Outfit: Pantaloons Fashion
Fusion Wear: AJIO Life
Fusion Wear: Raisin Global
Some Formal looks –
Blazer-Dress: Made by Cuin and Fashcapsule
Outfit: The Kumar
So guys this is all for the summer do's and don'ts. I hope these tips and tricks help and I hope you have a lot of fun this summer just like I do. Play with your outfits and have a lot of fun with them.
Happy Summer to us!