Although there are plenty of non-sticky hair oil in the market, personally taking care of your hair is still essential. In this article, I will discuss nine oils that are specially designed to provide specific benefits, showing a blend of science and nature.
Additionally, they help with hair strengthening, managing curls, preventing hair fall, and more.
I will also discuss each of their prices and give you the purchase link as well. So, on that note, let's delve into the world of non-sticky hair oil!
9 Non-Sticky Hair Oil In Nutshell (2023)
In the table below, I have added nine non-sticky hair oils. Along with that, I have also added each of their price and Amazon purchase links.
| | | | |
| --- | --- | --- | --- |
| Rank | Hair Oil | Price (In Rupees) | Purchase Link |
| 1 | Bajaj Almond Drops Hair Oil | 175 | Amazon |
| 2 | Parachute Advanced Jasmine Oil | 192 | Amazon |
| 3 | Emami 7 Oils In One | 244 | Amazon |
| 4 | Boutique Argan Hair Oil | 264 | Amazon |
| 5 | WOW Bringraj Oil | 252 | Amazon |
| 6 | Curl Up Nourishing Hair Oil | 610 | Amazon |
| 7 | Avimee Herbal Sapt Beej Hair Oil | 550 | Amazon |
| 8 | Lucido-L Hair Treatment Oil | 999 | Amazon |
| 9 | Himalaya Anti Hair Fall Hair Fall | 209 | Amazon |
In the list below, I have mentioned nine non-sticky hair oils along with their brief overview. Along with that, I have also added each of their prices.
1. Bajaj Almond Drops Hair Oil (175 Rupees)
Bajaj Almond Drops Hair Oil is a trusted option enriched with almond oil's goodness.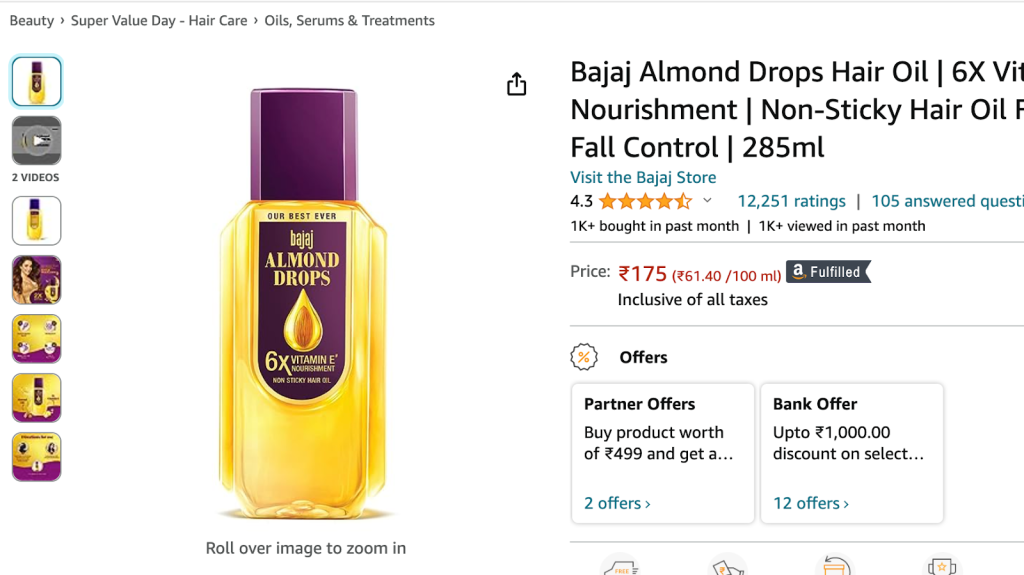 Known for its nourishing properties, almond oil penetrates deep into the hair shaft, providing essential nutrients that strengthen and revitalize hair. Its non-sticky and lightweight formula sets it apart, ensuring that it doesn't leave behind a greasy residue.
This oil promotes silky, manageable hair while adding a natural shine to your tresses, making it a popular choice for those seeking a balanced haircare solution.
2. Parachute Advanced Jasmine Oil (192 Rupees)
Parachute Advanced Jasmine Oil brings together the benefits of traditional hair oiling with the soothing aroma of jasmine. Beyond its pleasant fragrance, this oil combines natural ingredients to support hair growth and control frizz.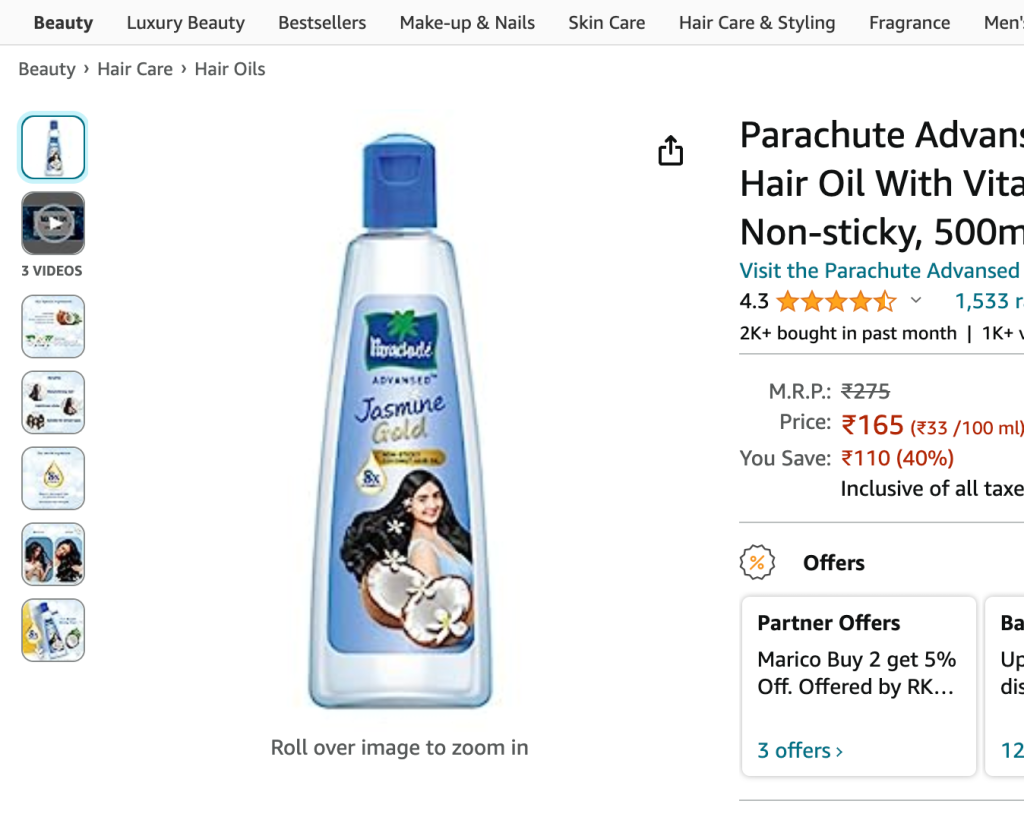 The blend of nourishing oils deeply moisturizes the hair, imparting a fragrant touch. Regular use can result in hair that looks lustrous and feels softer and healthier due to its ability to penetrate and nourish the hair shaft.
3. Emami 7 Oils In One (244 Rupees)
Emami 7 Oils In One is a comprehensive solution for diverse hair concerns.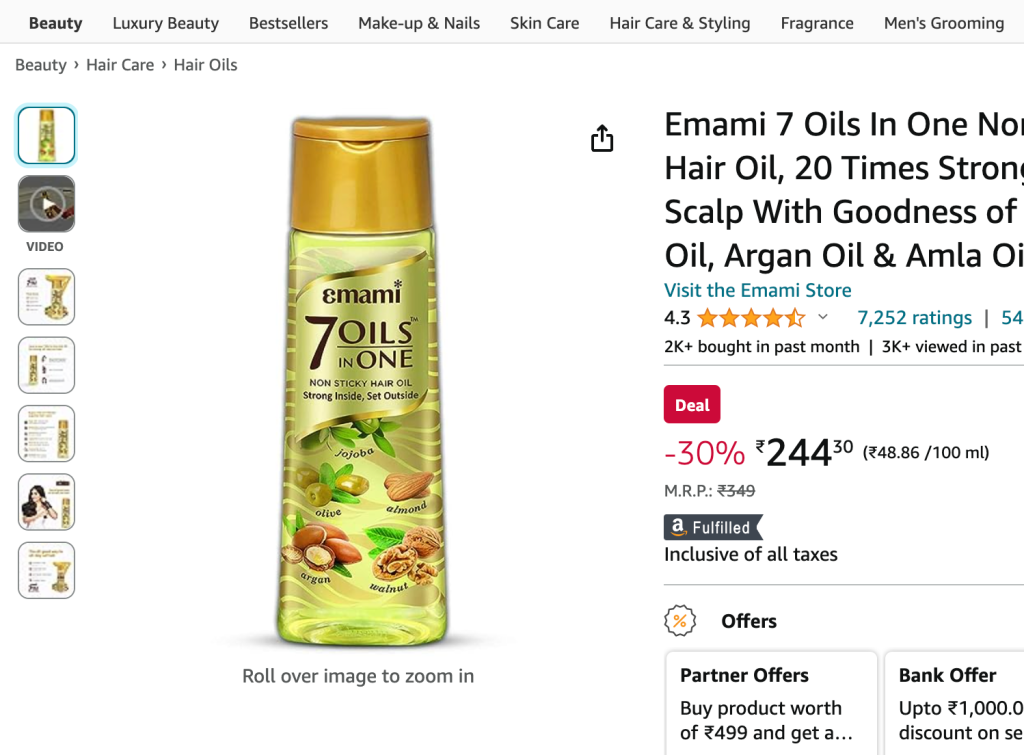 With a blend of seven different oils, this formula addresses issues like split ends, dullness, and dryness. Each oil, from coconut to almond, brings its unique benefits, creating a powerhouse of hair nourishment.
By providing deep hydration and strengthening properties, this oil promotes healthier hair with improved texture and manageability, making it a versatile choice for holistic hair care.
4. Boutique Argan Hair Oil (264 Rupees)
Boutique Argan Hair Oil harnesses the potential of argan oil, a Moroccan treasure known for its high vitamin E and fatty acid content. This oil deeply moisturizes and repairs damaged hair, enhancing its elasticity and imparting a natural shine.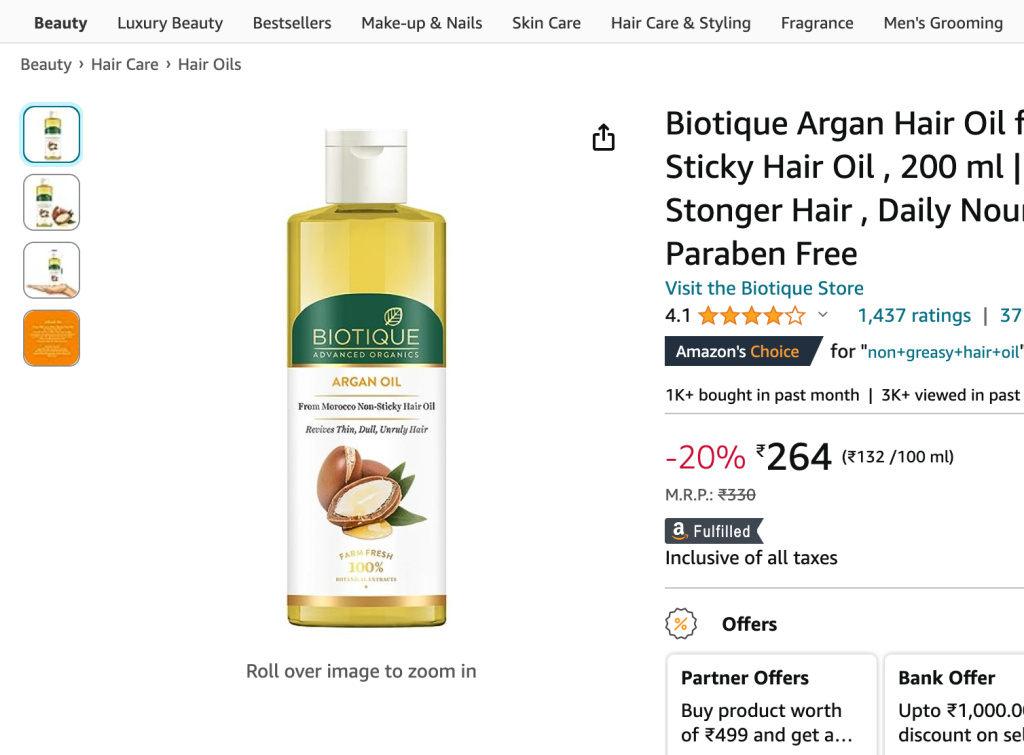 Its lightweight nature ensures that it's easily absorbed, leaving no greasy residue. The rich antioxidants in argan oil make it an ideal choice for those looking to rejuvenate and protect their hair from environmental stressors.
5. WOW Bringraj Oil (252 Rupees)
WOW Bringraj Oil is formulated with the extract of the Bringraj herb, renowned in Ayurveda for its hair-strengthening and hair-darkening properties. This oil specifically targets hair loss and premature graying, making it a sought-after choice for individuals dealing with these concerns.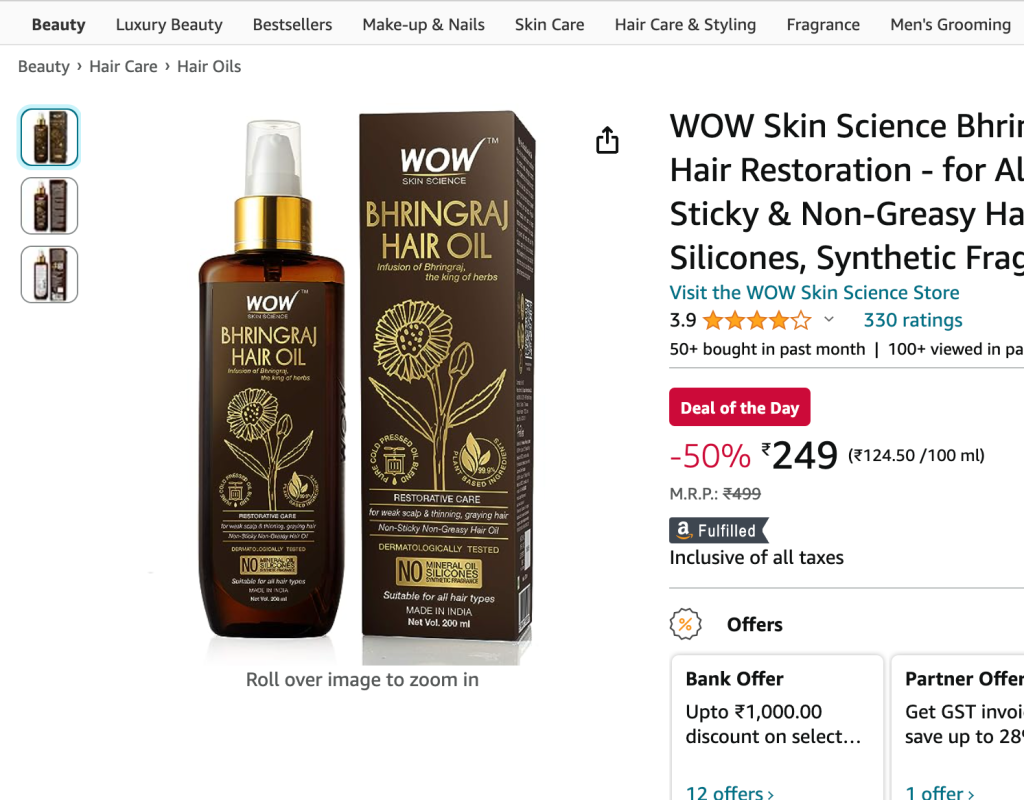 Regularly applying this oil nourishes the scalp, stimulates hair follicles, and supports overall hair health, making it a natural remedy for hair-related issues.
6. Curl Up Nourishing Hair Oil (610 rupees)
Curl Up Nourishing Hair Oil is tailor-made for curly hair. Curly hair tends to be drier and more prone to frizz; this oil addresses those concerns. It provides essential hydration to curls, defining their shape and taming frizz, resulting in more manageable and vibrant curls.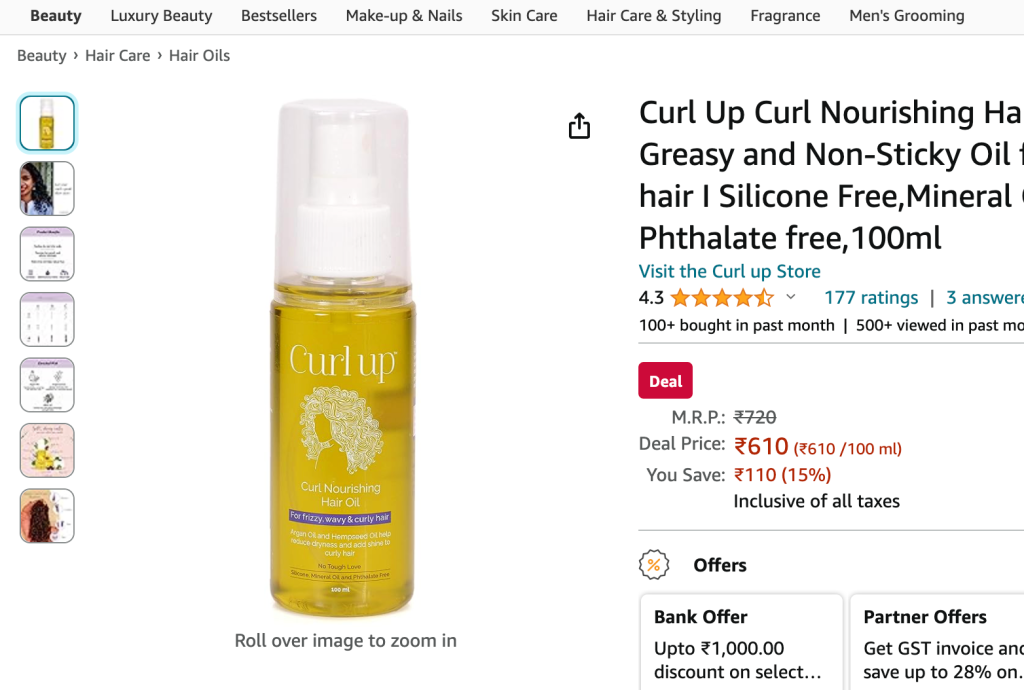 This specialized oil helps curly-haired individuals embrace their natural texture while maintaining a polished and well-groomed look.
7. Avimee Herbal Sapt Beej Hair Oil (550 Rupees)
Avimee Herbal Sapt, Beej Hair Oil, combines herbal ingredients to combat hair fall and promote regrowth. The power of herbs like Bhringaraja and Amalaki strengthens hair roots and supports a healthy scalp environment.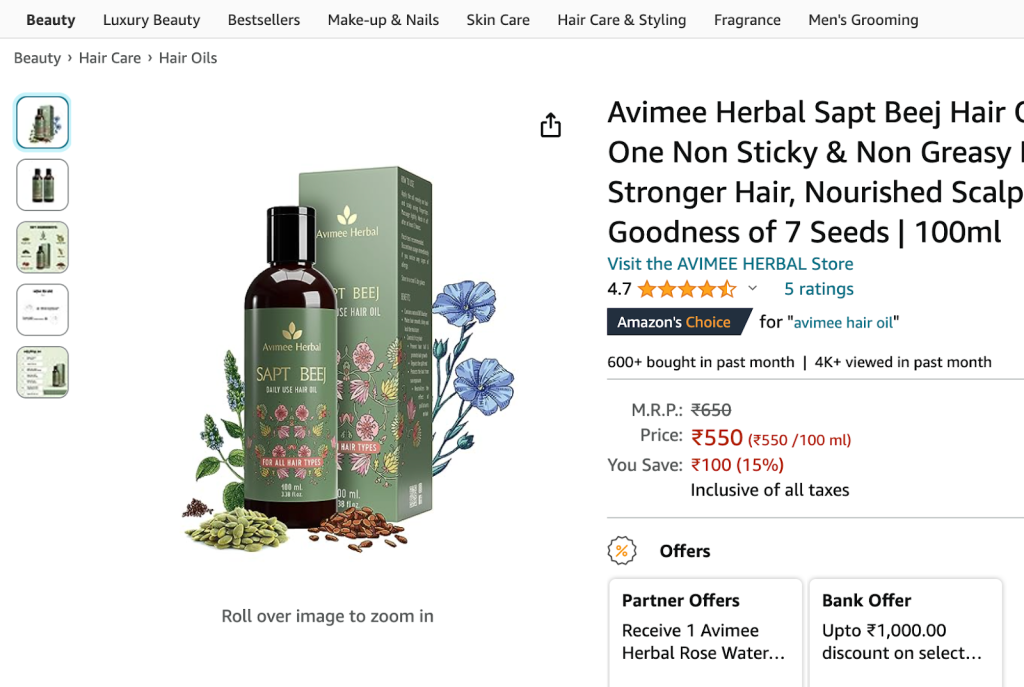 This oil is particularly useful for those struggling with excessive hair fall, as its natural ingredients work to create a conducive environment for hair growth and renewal.
8. Lucido-L Hair Treatment Oil (999 Rupees)
Lucido-L Hair Treatment Oil is a premium option designed to provide intensive repair and restoration for damaged hair. Packed with high-quality ingredients, this oil offers a deep level of care beyond regular hair oils.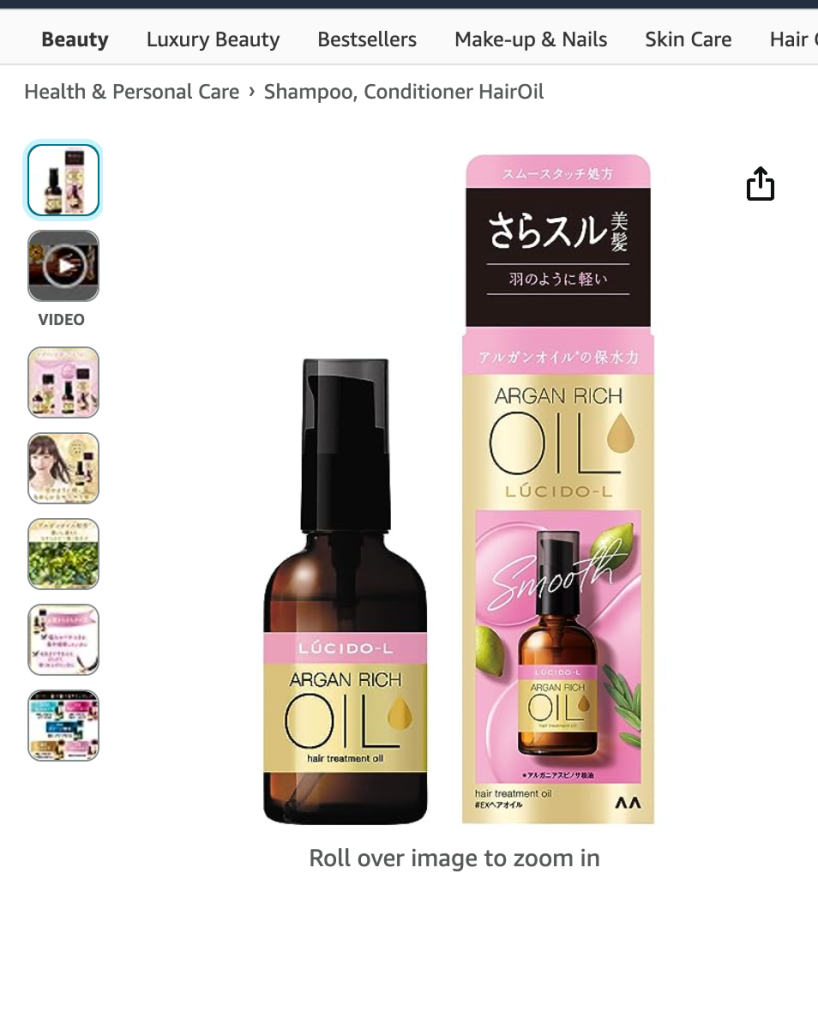 It targets issues like split ends, breakage, and dullness, providing a luxurious treatment that revitalizes and rejuvenates hair. The result is hair that looks healthier, smoother, and more radiant.
9. Himalaya Anti Hair Fall Hair Fall (209 Rupees)
Himalaya Anti Hair Fall Hair Oil is affordable for those concerned about hair fall. Enriched with natural ingredients like Bhringaraja and Amalaki, this oil strengthens hair roots, reduces breakage, and promotes hair growth.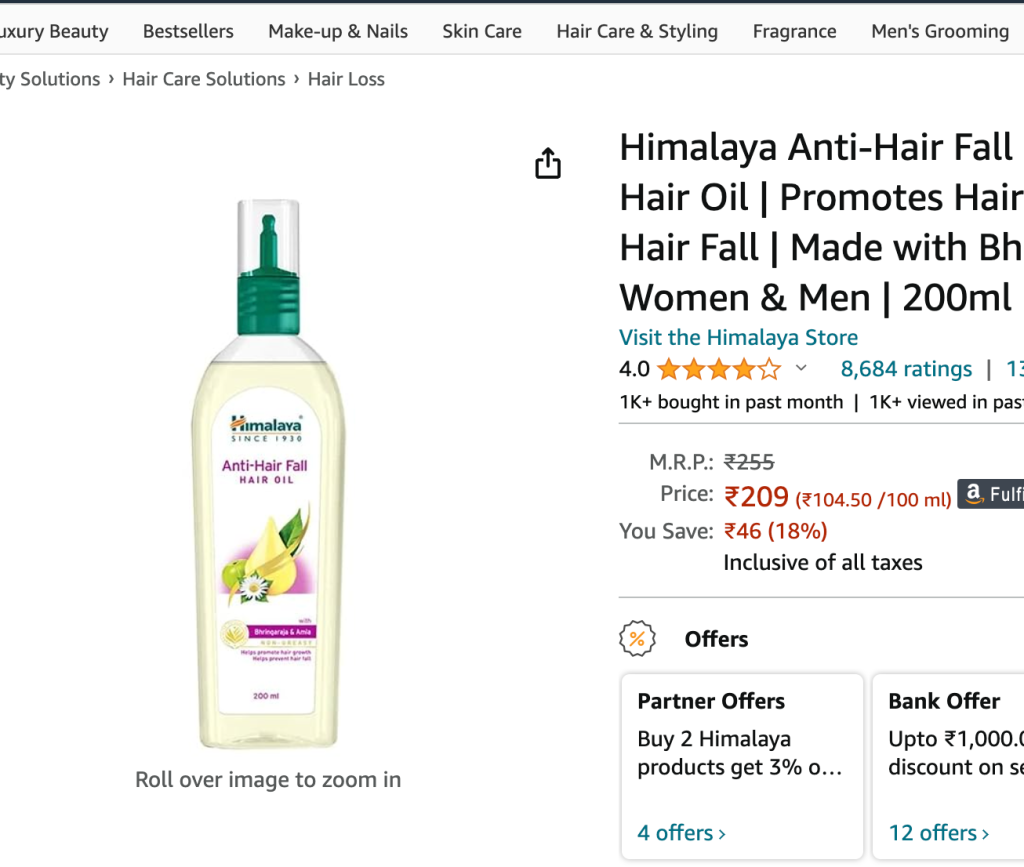 Its budget-friendly price point makes it accessible to a broader audience seeking an effective remedy for hair fall without compromising on quality.
Beauty Blogs
The Final Verdict!
In a world where hair care choices are diverse, these nine hair oils stand out for their unique formulations and targeted benefits.
Each option caters to specific hair needs, from the nourishing properties of almond oil in Bajaj Almond Drops to the regenerative power of Boutique Argan Hair Oil. Whether you seek to strengthen, manage curls, or combat hair fall, these oils offer effective solutions.
While individual preferences may guide your choice, these oils underscore personalized care's importance in achieving healthy, vibrant, and lustrous hair. So, that's it for my article.
In case of any additional information, I will keep the page updated!
FAQs
How often should I apply hair oil?
The frequency of applying hair oil depends on your hair type and needs. Generally, 2-3 times a week is recommended. You might benefit from more frequent application if you have dry or damaged hair. 
However, avoid excessive oiling, which can lead to a greasy scalp. Adjust the frequency based on how your hair responds to the oil treatment.
Can I leave hair oil overnight?
Yes, leaving hair oil overnight is common and can be beneficial. Overnight application allows the oil to penetrate the hair shaft and scalp deeply, providing maximum nourishment. 
However, if you're concerned about staining your pillow or discomfort, you can wrap your hair in a towel or use a shower cap before sleeping.
Are these hair oils suitable for all hair types?
Hair oils are formulated for various hair types and concerns. While some oils are designed for specific needs like curly hair or hair fall, others offer general benefits like nourishment and shine. 
Choosing an oil that aligns with your hair type and concerns is essential. Product descriptions and reviews can help determine if a particular oil suits your hair.