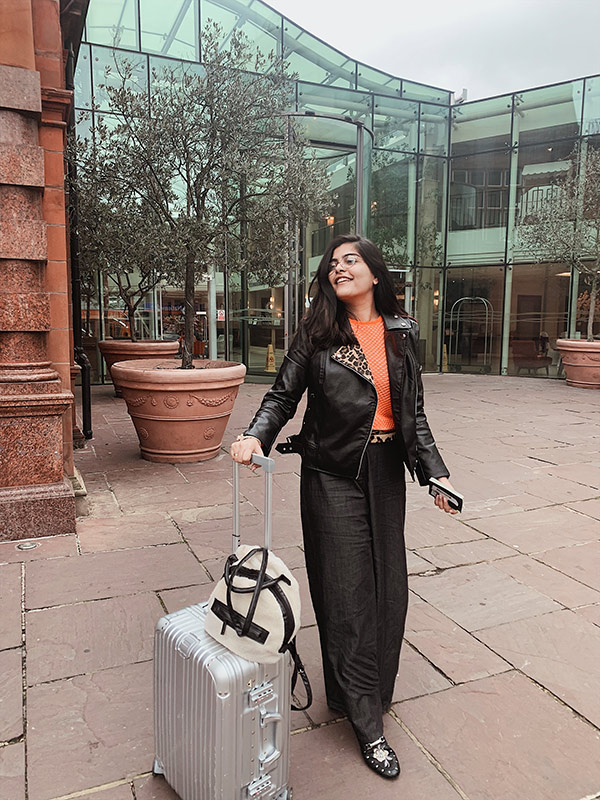 Watching new designs and the ever so poised models grace the ramp is probably the most mesmerizing thing to see. I love the sight of seeing weeks and months of thought and hard work finally being paid off on the beautiful ramp.
I recently got the amazing opportunity of attending the London Fashion Week and the experience was Oh! So Beautiful. The London fashion week takes place twice a year and London is one of the four big fashion weeks, the rest being Milan, Paris, and New York. I had got the opportunity to attend this event with the London School of Trends and INIFD Corporate.
The city is very vogue and I had a splendid time putting together disparate looks for myself during this week. My first look, when I arrived in this city comprised of a simple orange sweater layered with a leather jacket and I paired this with some straight black pants and loafers. This look was super warm and super easy.
On my first day at the fashion week, I wore a neon yellow dress with an overcoat from Made ByCuin. I completed the look with some statement earrings and a bag. The ever so stylish white heels led the look to perfection. I wore my hair in a messy bun and I was all set to rock the first day.
My next outfit had a strong layering game. I wore a black turtle neck and I layered it with a green buttoned shirt that I wore in a little fun way. I wore a jacket over which had a pop of orange color on its inside. My trousers were the highlight of my look with a very catchy print on them. I wore a K neckpiece with my look and kept the rest of the styling minimal.
On my third day at the fashion week and I decided to go for my oxidized jewelry. I wore a printed shirt with a grey skirt and I carried a blue polka coat on my shoulders. This outfit was curated by Indigene. I wore a heavy silver neckpiece to complete my look. Again, I kept the styling minimal.
Another very interesting look that I did was the velvet pantsuit by Ayushi Agarwal Label and I wore it over a sporty crop top by Uh Oh by Krishna. I accessorized my look with the very fetching gold earrings from Zara and these super modish shades from Shein.
This outfit was the most exciting one as I thought of bringing a little India to London with it. I wore a pop saree by Uh Oh by Krishna. It is grey with pop prints that made it oh, so stylish. I wore the saree on a black full-sleeved turtle-neck and to add some pop on my face as well, I wore a bottle of green lip shade.
The fashion week was amazing and I had a blast there. Now with the fashion week over, I set out to explore the city. This one day I decided to go a tad monochrome and I wore a pretty brown outfit. I wore a printed dress with stripes and some fun polkas and layered it with a brown fur jacket. I carried a sling and wore the ever-so-classy pair of hoops. A brown belt and some black shoes completed my look.
I also ended up having the most glamourous opportunity of attending a limousine party while in London where I wore a very dazzling outfit. I wore the classic little black dress and a black coat over it. The best part of my outfit was the very sexy pair of black and silver heels from the Truffle Collection.
My trip was amazing but alas! It ended. On the last day in this amazing city, I wore a comfortable pair of deep yellow trousers and wore a simple white top with it. I wore an adorable lilac jacket from Bershka. I carried an animal print bag and wore some sporty black shoes, again from Bershka, to complete the look.
London fashion week was very exciting and I had the most spectacular time looking at the gorgeous outfits prepped up for this season. The city was again, a delight and I had so much fun shopping and just wandering the city. This place is sure to have made a soft corner in my heart and with the fashion week over, I am just so excited to take back all the trends with me to India.