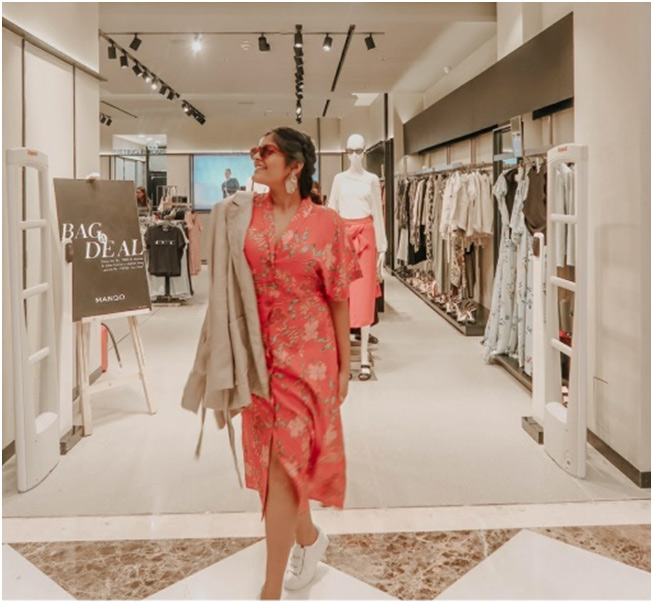 So many occasions come and go where we push ourselves to wear some heels to add glam to our outfits. Won't it be such a treat if we could just wear something cool and casual and enjoy ourselves without worrying about tripping and ending up with sore feet? What if I tell you, you can wear your everyday comfy sneakers and style them into something sexy and glam for pretty much every party. Just a little styling and you can be ready to conquer the world.
Let's discuss some of my old looks so I can give a better idea of what I am saying to you guys –
My first look is super easy and casual. Just wear a t-shirt dress or just any casual dress with some floral prints or some polkas and pair it with your comfiest sneakers. We can also go with some dress hoodies like in my second look. White sneakers go with pretty much every outfit. We can add a coat or a jacket, as I have with this beige one, and complete the look. Since the look is very simple, I have accessorized it with earrings and some colored shades. I have also styled my hair in braids to make my look chicer while in my third look I have let my hair loose and kept it super effortless.
In this look, I have tried to play with black and white. The white shirt has some elaborate sleeves and it is paired with cigarette pants with a line pattern. The look is perfect for lunch dates or even some semi-formal events. My white sneakers from Clarks shoes add the style to this outfit and some black shades complete the look. I have not accessorized for this look since I wanted to keep it elegant and simple.
I believe that a simple t-shirt and some chic pants paired with sneakers do the job at times. It is effortless and can be mixed and matched in minutes. This look is perfect when you want to take a break from all the sassiness and just have a chill day. It's sure to be everyone's Go-to-mall or Go-to-movie outfit.
So white sneakers are fun and easy to pair but the colored ones are a bit tricky. I have these in orange color from Reebok and I love how they add the pop to my otherwise subtle outfit. The classic white top and blue jeans which is a staple for every girl can be made chic by just pairing them with these sneakers. I have got the jeans from Aeropostale and its super comfortable. I love how they make my outfit so fun and playful. I nice beanie is just like the cherry on the cake. Even for the second look, the otherwise subtle outfit from Zara is made so vibrant by just adding these sneakers. The Raybans complete the look.
Sneakers can also make a sporty outfit cool and casual. Here I am wearing some very cool coordinates with my sneakers and I am carrying this blingy bag to complete my look. This look is super casual and the most comfortable outfit ever. You can get the look from the Lifestyle Store.
Here I have created a street look with some camo pants and a super stylish black top with stripes from Shein. I have my sneakers from Sketchers and to add the dressy-quotient, I have these elaborate hoops and some statement shades. This look is perfect for outings with friends and casual meet-ups. We can tie up the hair or let it down- it'll look gorgeous either way.
So now, I'm going to wrap up my list of sneaker looks with my favorite. This is the most interesting combination ever. Here I have paired a very traditional blouse with black joggers. I have worn an overcoat and of course, the sneakers. This combination is very different and works so well that it is bound to shower you with compliments.