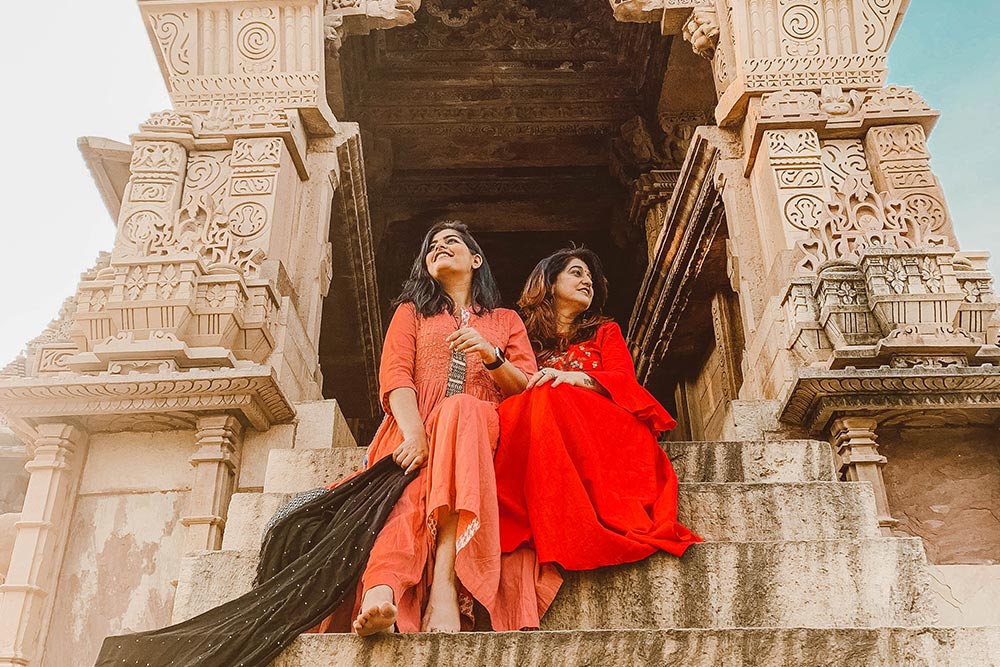 Do we ever think of visiting religious places when we are planning a family vacation? Well, I don't. We often end up shortlisting Goa, and Rajasthan but have you ever imagined how fun and incredibly fascinating it would be to go back to our roots and experience the mythological stories that we were told about when we were young.
Recently, I had the amazing opportunity of visiting the beautiful state of Madhya Pradesh. We started our trip with the captivating city of Khajuraho. I wore a brick-red dress and paired it with an elaborate silver necklace for my first day. This city is full of temples that drip beauty and intricacy from all its corners. I must say, I visited almost all the temples – especially the Kandariya Mahadev Temple and the Matangeshwar Temple. We also had a sumptuous meal at Raja Café. It is a very nice café offering multi-cuisine food – probably your go-to café there. We ended our day with the Light and Sound show which will probably end up being your mom's favorite too!
Our second destination was the city of Panna. I wore an orange mirrored top with off-white bottoms. I also wore some silver earrings and a silver choker to complete my look. Our morning began with a visit to the Panna National Park – it was a very exciting experience and our tour guide made it so much more fun. I saw 'Sambhar' – the biggest deer in India while my mom caught a glimpse of a tiger. They say it is better to visit this park early in the morning as the chances to spot a tiger are higher during that time. We then went to see the Pandav falls. Each place has a story of its own and these falls had their tale too. It was said that the Pandavs stayed in the jungle there and that the water of the falls has ayurvedic properties that can cure many ailments. Food can be a bit of a hassle in Panna but the rest of the experience is wonderful. We visited some temples in Panna as well and then began our journey to Ajaigarh fort. The grand fort is known for its majesty and speaks volumes of the Chandela dynasty. After the fort, we visited our last city of the trip – Chitrakoot.
I wanted to stay traditional for my last outfit as well and decided to wear red coordinates. I couldn't help but wear my silver necklace from the first day again. Chitrakoot is a holy city where Ramji spent around eleven years of his exile period. We visited Ram Ghat and waited for the aarti in the morning. The hustle-and-bustle of the aarti had a sense of calm around it and I felt very peaceful there. We visited the Bharat Milap Mandir next where it is said that the actBharatarat Milap happened. We saw the Hanuman Dhara which is a mysterious river since no one knows where it originates from. There is also a Hanuman Dhara Temple where Hanuman Ji is said to have come after he burned down Lanka. We then visited the Sphatik Shila and also the Godavari Kund and the Sita Kund. After spending time in this mythological city, we departed for Khajuraho and caught our flight for Delhi.
All in all, I must say I had never imagined having so much fun losing myself in these tales which didn't fail to take me back to my childhood. Each place had its own story to tell and the people around were extremely kind and warm. They took care of us and were very helpful. Out of all the three cities, Panna is more on the adventurous end with the waterfall and the national parks and balances the rest of the trip perfectly.