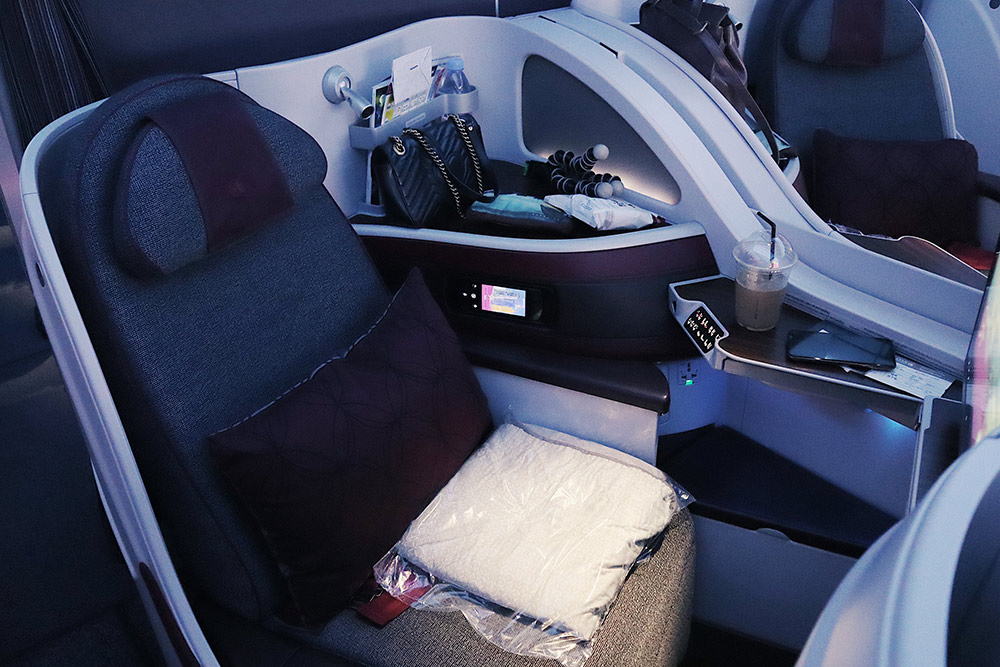 Whenever we are traveling, the only thing that we don't put a lot of emphasis on – is the journey. What we don't realize is that the moment we step out of the house, the trip begins and everything counts.
I recently had the most pleasant and luxurious experience of travel with Qatar Airways – Delhi to Doha, Aircraft 787. The business class is to die for and is so superbly designed that it is worth every penny. The trip begins on a very high and happy note when we are given priority check-in and then the amazing lounge to laze around and savor some bites in. I had an amazing experience altogether when I missed my first flight because of some visa issue and then booked the same flight for the next day.
The moment I entered the business class section, it took me a moment to breathe and just soak in my surrounding. Everything was very well conceptualized and the seating was very spacious with a lot of room to stretch your legs and walk around during those long flights. The seating order was 1-2-1 and there were 22 seats in total. The best part was that we could access the wi-fi the moment we crossed Indian borders. There was also a lot of space around the seat and we had three separate sections for only storage. One was the main space to store our baggage, one was for our shoes and one was beside the seat for headphones, etc. Apart from this, we also had the usual storage cabins overhead the window seats. The table present was also very adjustable and catered to all our needs perfectly. There was room at the entrance of the business class section with magazines, fruits, and snacks to walk around and munch as well.
I was pampered to my fullest with the cabin crew always on their toes to assist me. Every seat had an assigned personal attendant who made sure that the passengers were well fed and treated with utmost importance. I got a very friendly attendant who served me and made my journey a very pleasant one. The menu was very extensive and had a lot of options to choose from. Something that I loved about the menu was how well it catered to its passengers' needs and taste buds. I was served a very kadak chai – something we rarely find once we cross our country's borders – and I couldn't feel more at home. There wasalso a lot of options for vegetarians – again something hard to find outside our country.
The seat was like a bed in itself and I won't lie – it was hard to say goodbye to it. The seat control options were so easy and user-friendly with the seat almost becoming a bed and then turning back to a seat. There was a lot of leg room and a lot of space to keep extra things that we tend to carry with us. There were also ports for charging all electronic devices.
As the four and a half hours of luxury ended, the mood lighting got brighter and we made peace with the fact that the journey had ended. Even after we landed, the personal attendance didn't quite end and we had one more person helping us with the immigration process. By helping I mean, we were made to sit and relax and again served with delicacies while the immigration process was being taken care of by our attendant.
All in all, I had the most luxurious and comfortable journey with Qatar Airways. Everything was very well designed and the service was impeccable. They left no stone unturned to give their passengers a wonderful journey experience and pampered us with all their might. The menu was very thoughtfully planned and each presentation was Instagram-worthy.