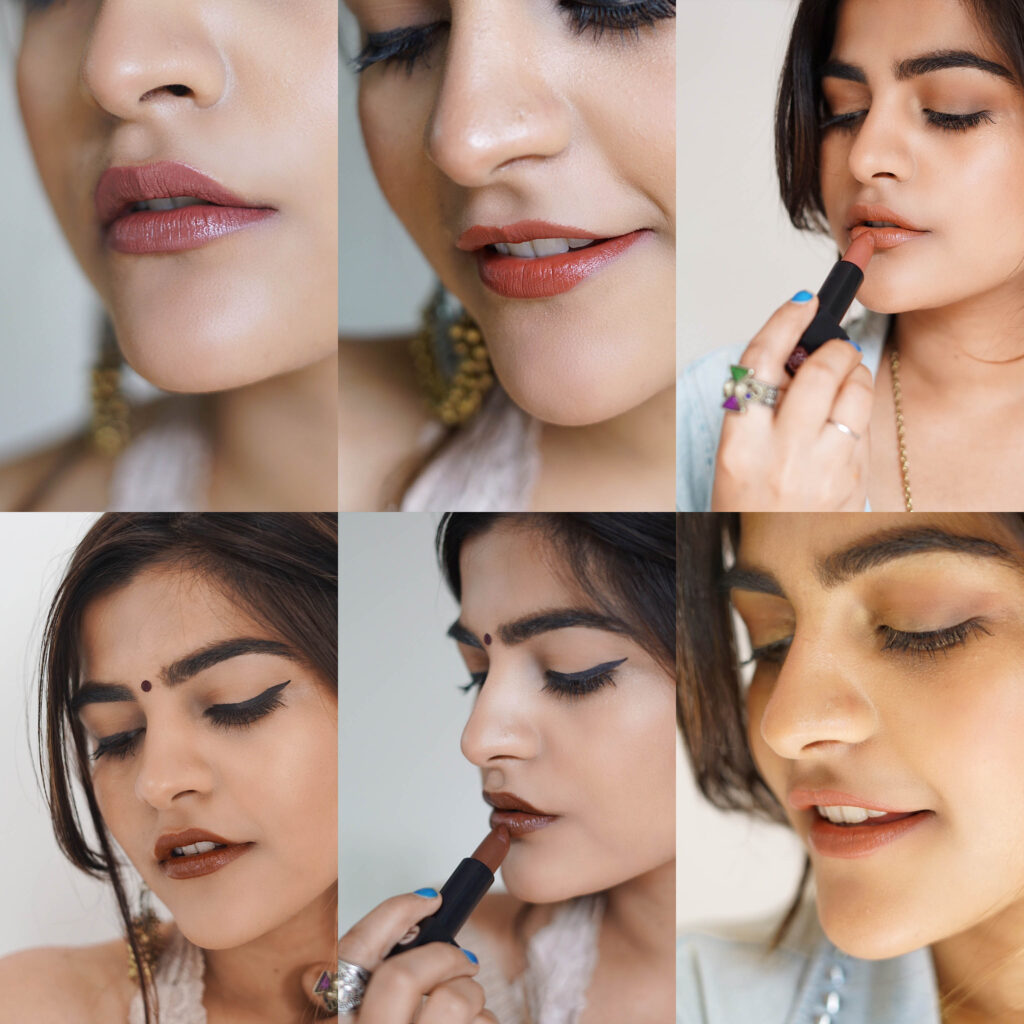 Nykaa recently launched their matte lipsticks and I used their whole collection of nudes to let you guys know about it.
They have a wide collection of nudes for every complexion and for that, one should give it try! What fascinated me when I saw their collection was the range of nudes that they have, suited perfectly for the Indian skin tone. They come in cardboard-packed Nykaa standard boxes and the lipsticks have a magnetic opener, which makes them fancy. The box of the lipsticks has a black matte finished look with Nykaa engraved on it.
I have described the shades below in a few words so that you all get a better idea.
Nykaa So Matte Nude Lipstick- Caramel Mocha 21M
This delicious light nude hue is as delicious as its name. Swipe it on and conquer the day girl
Nykaa So Matte Nude Lipstick- Royal Honey 22M
This warm-toned nude shade is as majestic as it gets!
Nykaa So Matte Nude Lipstick- Hot Cocoa 23M
This pinkish-toned nude shade will ensure you are summer-time fine even in December!
Nykaa So Matte! Lipstick- Praline Cookie -24M
Go ahead and give in to this beautiful brown-toned shade. Let your lips look delish in this stunning hue.
Nykaa So Matte Nude Lipstick- Haute Fudge 25M Rock it all night and all day with this brown hue. We promise that this shade is sure to put you in the middle of the spotlight!
Nykaa So Matte Nude Lipstick- Bon Bon 26M
This rich, chocolate brown shade is sure to make you look like an international diva!
Nykaa So Matte Nude Lipstick- Coffee Mousse 27M
This light brown-toned nude hue is sure to fashionably kick-start your day!
Nykaa So Matte Nude Lipstick Chocolate Truffle 28M
This rich, dark brown hue is as fun as it gets! So, what are you waiting for? Take the wheel in your hands!
Pros of the product
One stroke Application.
You don't need to apply the lipstick on your lips more than one time! They guarantee you an easy one-stroke application.
The Glider.
The Nykaa Lipsticks glide on easily without a problem. Really easy application!
Pigmentation.
The biggest con would be that the lipsticks are pigmented and do not come off easily.
Soft Matte Finish.
For all those of you who hate matte because of the 'chapped lips' problem, know that now you have a solution. Nykaa lipsticks are not completely matte but have a cream matte look, which means no chapped lips!
Cost Friendly.
Now, these lipsticks offer a lot for a mere price of 399 and hence are cost-friendly!
Cons of the product
Not matte.
For all of those who think that these lipsticks offer a completely matte look, that is not the case. These lipsticks have a creamy matte finished look.
Does not stay throughout the day.
If you think one stroke will help you throughout the day, you're wrong. Nykaa lipsticks need to be applied again if you're going to eat or drink something, which of course we do! So carry the lipstick in your purse and problem solved!
The winner
Hands down my favorite shades are Bon Bon and Chocolate Truffle. These shades are a must-have and the best part about them is that they would go with every outfit. I suggest you guys go and buy them!
OVERALL RATING
Nykaa products have never disappointed me. every timely launch of something new leaves me amazed. The overall rating that I would give 'Nykaa So Matte Lipsticks' is 4.25/5.